Aged Care Employee Day: In Their Own Words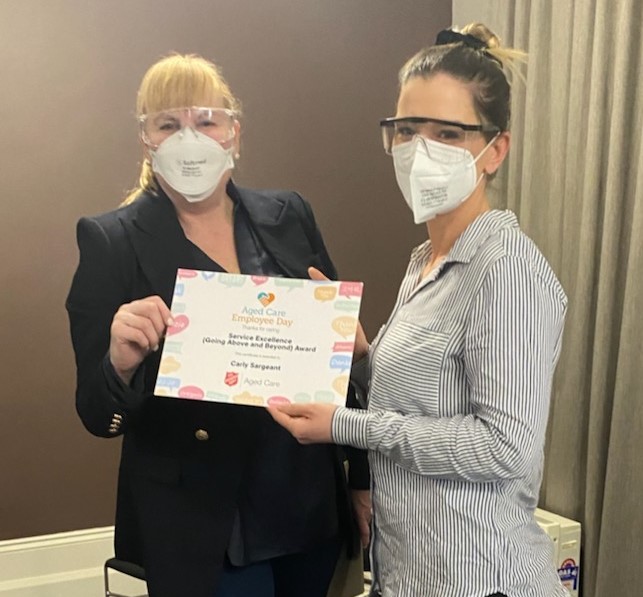 At The Salvation Army Aged Care, we recognise that much of our work simply couldn't be done without the efforts of our valued employees. It is safe to say they make up the 'beating heart' of our organisation and, whilst every day presents an opportunity to acknowledge our Aged Care employees, The Salvation Army formally celebrated Aged Care Employee Day at its Sydney Headquarters, and within its Centre's and Services nationally on 5 August 2022. To hear from the heroes themselves,we spoke to three employees to learn what they find most rewarding about their role and how they celebrated this special day.
Meghan Woodbury is a Care Service Employee based at Macquarie Lodge Aged Care Centre in New South Wales. She notes that she most enjoys working with her team, "gaining invaluable knowledge and skills from senior staff" and is thankful that there are "endless opportunities" and an "abundance of skills that are lifelong" to learn at The Salvation Army.
Whilst we agree the role of a Care Service employee is inspiring, Meghan notes it is in fact her residents that inspire her, and she is driven by "the positivity that residents always show, even when they aren't feeling their best." Subsequently, Meghan seeks to return this positivity as she builds connections with her residents, getting to know them, "as an individual, learning their routine" to make them feel most at home.
Beyond being able to "give back to the older generation", Meghan notes the most rewarding part of her role is the little things such as, "having the knowledge that you have made a difference in an individual's life, through even little things such as making a cup of tea."
Tasmania's Barrington Lodge Aged Care Centre receptionist, Julie Panting, also spoke to The Salvation Army about her Centre's afternoon tea which included all staff and made her feel very special." Reflecting on the Day itself, Julie affirmed that Aged Care Employee Day, "means a celebration and recognition of why we should be proud to be aged care workers." Even despite the occasional challenge the role can bring, Julie reiterated that, "it is an honour to be entrusted with the care of people's loved ones at this stage of their lives.
Similarly, Rajesh Jatan, a Registered Nurse from Montrose Aged Care Centre ("Montrose") stated she enjoyed the Aged Care Employee Day celebrations and that the celebration unified staff, "from many different departments." As a result, employees at Montrose, "were all made to feel appreciated and were thanked for their hard work... especially during the pandemic."
Even despite "challenging days," Rajesh enjoys working in Aged Care, "because it is so rewarding to look after people and… make their lives better each day." Rajesh also acknowledged that as a result of her role, she has, "met some amazing people including residents, staff and Allied Health team members" who have since become like "one big family." Rajesh concluded her comments by affirming, "we are [a] great team at Montrose and I feel that all staff here work hard day in, day out and for that reason everybody is a winner."
To see more about Aged Care Employee Day at the Salvation Army, be sure to watch the following video: