Client Spotlight: Be Active and Happy by Care Coordinator Michael Manjalloor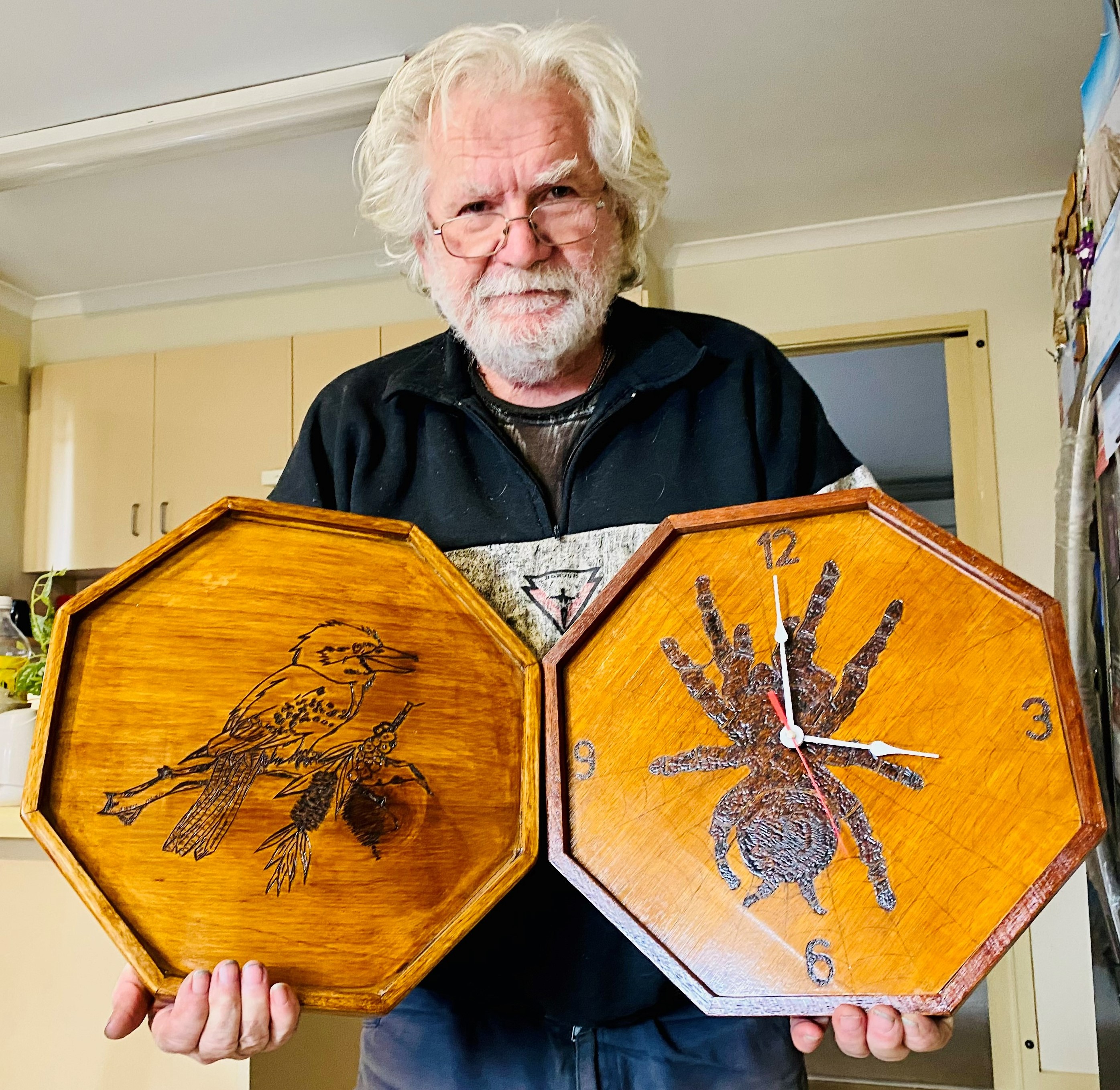 Salvos Home Care client Anton ("Tony") holds a wooden spider clock that he has been making and explains how he manages stress and anxiety. "When I am in the world of wood carving and wood burning, it involves a lot of imagination and energy," he says. "It helps me to concentrate only on the piece of wood I am making, that allows me to forget negative thoughts. Thinking of the creative work brings positive images instead of negativity to mind." Tony laughs and shows me another of his woodworks. "It has enough energy to keep me positive for the whole day," he explains. "It is a different feeling when I am designing. The challenge to make this gives me pleasure. That is the power of carving."  
Tony, who also cares for his wife, learned wood carving and wood burning from a Men's Shed, which was unfortunately closed for most of the COVID-19 pandemic. Men's Sheds have a significant role in the life of people like Tony. They are community-based non-commercial organisations that are open to men, providing a safe, friendly and inclusive environment, and they help people come together in the company of each other to support mental health through learning, creativity and productivity. Pro-social behaviour and positive social relationships can also lead to improved life expectancy. 
"I have made miniature furniture, toys, candle holders, wishing wells, knife holders, clocks with many themes, and even a motor bike," Tony says of his woodwork. "Sometimes we make furniture for schools and toys for childcare centres at just the cost of raw materials. Some of the items we sell in a shopping centre, and we buy our equipment. It's another opportunity for us to tell others about the Men's Shed and interact with more people. I have learnt to keep out of stress by doing something good."  
Apart from holding a space for friendship and to socialise, Men's Sheds also offer opportunities to learn a variety of other activities such as manual crafts, gardening, beekeeping, toy making and other useful skills such as First Aid and health and wellbeing awareness. The Australian Men's Shed Association ("AMSA") is the peak body supporting almost 1000 Men's Sheds across Australia and it is funded through National Shed Development Programme. Research conducted by Beyond Blue and the Australian Men's Shed Association states that there is a significant improvement in Men's Shed participants' mental health, vitality and physical functioning and a reduction in anxiety and depression.  
According to Beyond Blue, "It is thought that between 10 and 15 per cent of older people experience depression and about 10 per cent experience anxiety." As Tony is successfully doing, engaging in activities such as wood carving and art can help to support positive mental health and provide improvements in terms of quality of life, increase an individual's capacity to support their family and their mates. Healthy eating and staying hydrated, regular physical activity or exercise, study and relaxation techniques, as well as good sleep hygiene are also essential to maintain good mental health.  
Sources:  
Beyond Blue – Older People: https://www.beyondblue.org.au/who-does-it-affect/older-people  
Men's Sheds Australia: Effects on Physical Health and Mental Wellbeing https://www.mengage.org.au/images/bw0209.pdf