Prevent Falls Through Exercise, Balance and Caution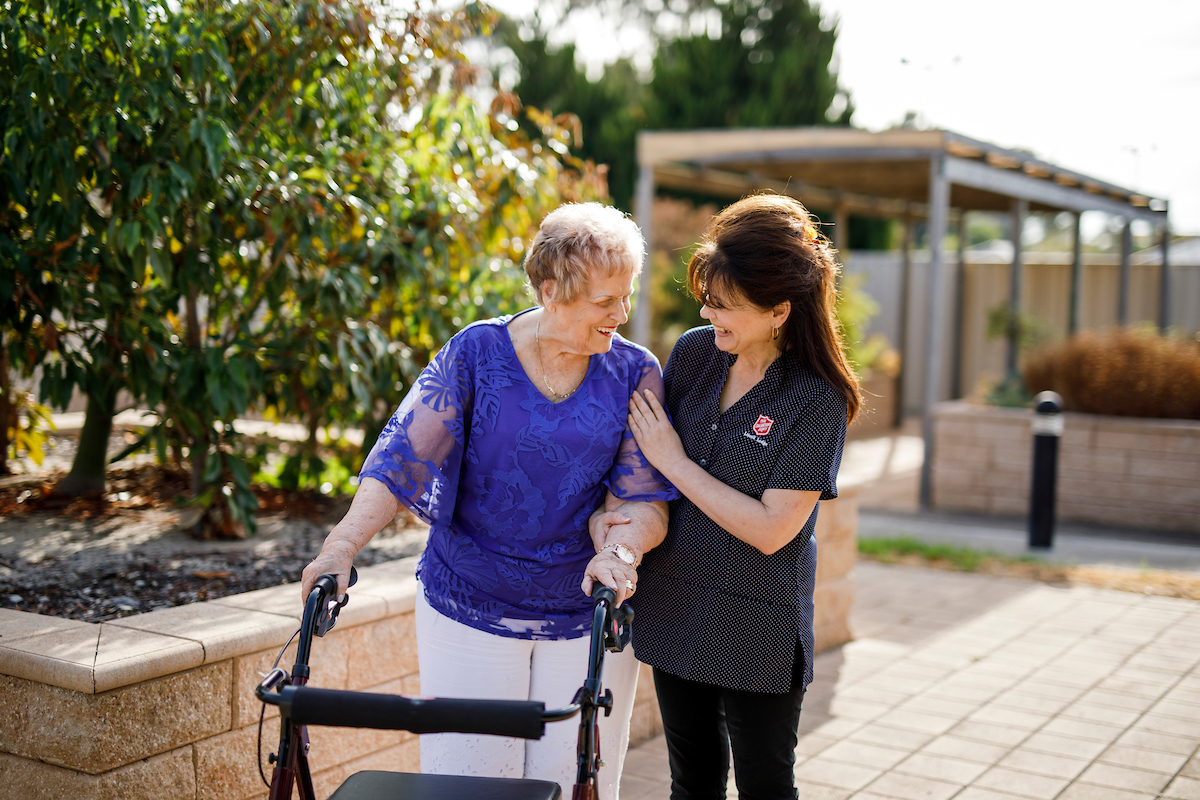 It's April No Falls (Falls Prevention) Month and the theme for 2022 is Better Balance for Fall Prevention. The overall goal of April No Falls Month is to get active and improve balance for falls prevention, which is a big part of what we do at all our Residential Aged Care Centres and at The Salvation Army Healthlink clinic, through personalised movement, mobility, and function programs. "Falls prevention is one of our key foci every day," says Valerie Segi, The Salvation Army Healthlink's Program Manager. 
The less physical activity someone does, the more likely they are to fall due to weaker muscles, stiffened joints and deteriorating balance stemming from prolonged lack of movement. Our bodies were designed to move. Physical activity keeps us healthy and reduces the risk of falls and serious injury and health problems resulting from a fall.  
The Benefits of Exercise   
Improves balance

Improves muscle strength and flexibility

Maintains bone strength

Increases energy levels

 

Helps with sleeping problems

 

Helps to control blood pressure, blood sugar levels and weight

 

Improves outlook and attitude towards life 

 

If you have arthritis, being active helps to control pain, weakness and stiffness

.

 
The better your overall balance and strength are, the less likely you are at risk of falling. 
What You Can Do to Prevent Falls  
Be physically active every day. Aim to do at least 30 minutes of activity, at least 5 times a week.

 

Engage in exercises and activities that make you stronger and improve your balance.

 

Talk to a physiotherapist about which balance and strengthening exercises will best suit you, and how to manage any pain you might have.

 
While exercise and regular movement are crucial for falls prevention, there are some other things that you can do to help reduce your risk of falling: 
Consult with a physiotherapist about whether a walking aid may help you. Using a walking aid can increase your steadiness and confidence to walk more. This also signals to others around you to be more considerate when around you

.

 

Talk to your doctor if your health problems make you worried about attempting more activity.

 

Do not engage in activities that push your limits, or you may feel uncomfortable with such as reaching for an item on a high shelf.

Wear safe shoes, such as rubber soled shoes, and avoid loose fitting shoes.

Ensure hallways, doorways, and all rooms are well lit.

Remove clutter from walkways.

Check walking areas for uneven surfaces (indoors and outdoors) and ensure all areas are repaired if uneven.

 

Consider installing rails in the bathroom and toilet, and near front and back door and any steps.

 

Secure all rugs and carpets or remove them. 

 

Make an appointment to get your eyes checked at least once a year.

 

Don't rush and take your time. 

 
Whether a structured program or on your own, regular exercise is imperative for improving your body's mobility, and paired with safeguarding your environment, is the key to better falls prevention. 
"Our Physiotherapists and Therapy Assistant provide education and exercises to our physiotherapy clientele who attend our clinic to improve their strength and balance and reduce their chances of falling," says Valerie Segi of The Salvation Army Healthlink. "We have very good outcomes for many of our clients in that their incidence of falls has reduced markedly or been eliminated." All Healthlink programs are personalised for each client by our team of experts. If you are in South Australia, visit our The Salvation Army Healthlink clinic. You can also contact us on 08 8264 8300 or agedcare.enquiries@salvationarmy.org.au. 
Sources:  
The Salvation Army Healthlink Program Manager, Valerie Segi

 

Commonwealth of Australia 2011: Don't Fall For It

- A guide to preventing falls for older people.

 

NSW Fall Prevention and Healthy Ageing Network: April Falls 2022

.