Chef Ambika on Working in Aged Care and His Passion for Food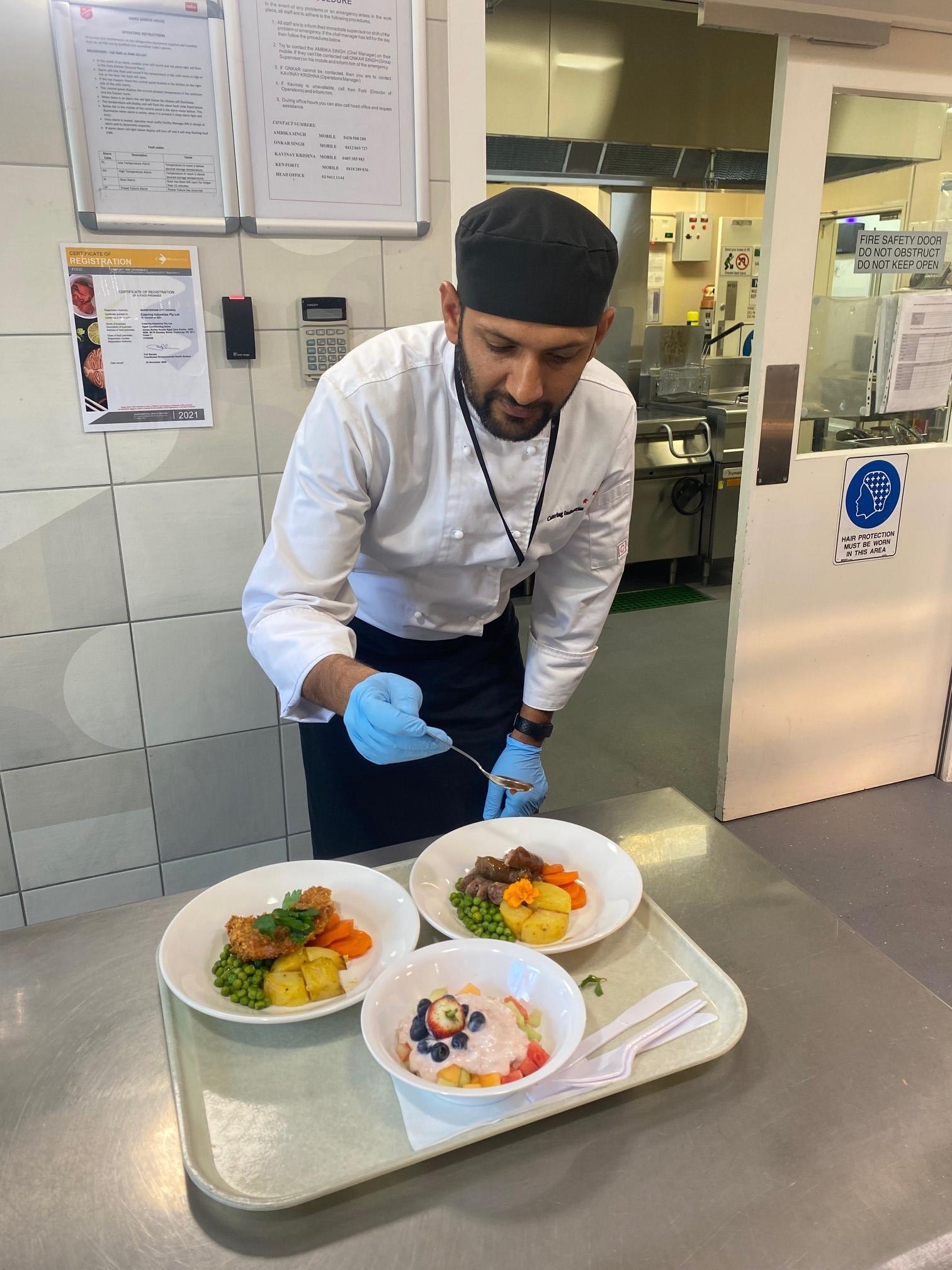 From manning the kitchens at Rod Laver Arena and the Melbourne Cricket Ground ("MCG") to the private jets of famous people like singer, P!nk, and the President of India, James Barker House Aged Care Centre ("James Barker House") Chef Manager Ambika's curiosity for food has never wavered, spanning across 15 years.
A desire to create and deliver service inspired Chef Ambika to pursue the culinary arts. He completed his training in Melbourne and, during his career, has had the opportunity to work with many mentors. Each experience provided new knowledge and challenges, which he has always embraced. "You must have the right attitude and be ready for challenges. If it's easy, you don't learn anymore," he says. 
At James Barker House, Chef Ambika cooks for about 100 residents. His role not only includes preparing and cooking meals, but ordering from suppliers, rostering and analysing residents' feedback. He plans out each day the day before and reviews each day's activities first thing in the morning. "Good time management is key, once you have that, it's much easier," he says.
With the often busy day-to-day of the kitchen, he and his team strive to carry out a seamless operation. "Everyone works together well and is open to doing any task," he explains. "Routine is important, and I trust my team even if I'm not there." He also leads by example to show his team that collaboration is key, even coming to work on his days off to assist with dish washing when there is a staff shortage. He also helps to optimise productivity and improvements, having recently helped introduce new insulated trolleys for assisted meals, that will keep meals hotter for longer whilst being transported to residents.
In his spare time, Chef Ambika is a keen cricket player and is in many sports clubs. It was here that he was drawn to aged care, hearing stories from his fellow members about their family residing in aged care. "I wanted to share my experience and knowledge of food to create something for the residents that they love."
When it comes to preparing meals in aged care, it is a balancing act to ensure the same quality across all meals at one time, as well as considering residents' likes and dislikes, dietary requirements, cultural differences and feedback. Chef Ambika enjoys speaking individually to residents to ask their feedback and get to know them, which he does as much as he can. "There are the usual residents at the food focus meetings, so I also seek out others to get their opinions," he says. "Hearing their stories, they start to feel like family, and it motivates me further to be able to do something for them." 
There is a common menu for each meal, all with additional options including vegetarian and texture modified, but Chef Ambika and his team go a little further. A resident, Percival, is of Indian background and absolutely loves Indian cuisine, so Chef Ambika cooks two Indian dishes for him each week. Purchasing extra herbs and olive oil to use as she likes or providing extra rice for resident Mary has proven to really improve her dining experience. "She used to complain quite a lot," he laughs. "I started writing down notes over time and asking her opinion to provide some customisations for her. She ended up being so happy that she made beanies for my kids." With some bonds having been formed, he even remembers the room numbers of some residents, and they ask him to meet their families when they visit.
Having almost found the solution for his toughest critics yet, Chef Ambika tries to adjust and make allowances where possible. If someone is unhappy with the food, he will endeavour to come up with a solution with his wider team. He and his team also add their own take on the set menus in line with residents' preferences and their own culinary expertise. At the Centre's most recent food tasting, the food service team received 96% positive resident feedback.
When he is not working, Chef Ambika's favourite dish to cook is grilled chili and garlic oysters with lemon, and back home in India he loved making slow cooked goat with clarified butter and dried red chili. "I really enjoy slow cooking as it gives me time to enjoy the cooking process and creates impactful flavour."
On working in the culinary industry, Chef Ambika advises that a good attitude and passion are paramount. "There is no small or big job, doing all types of jobs helps you become all-rounded and more prepared for future roles," he states in sharing his advice. "A passion for food! Look for challenges, be creative and keen to learn more. Wherever you are, you can always learn more about how to improve each time."